If you want to be in the know about what's going on at our organization, you've come to the right place.
Be sure to check back regularly to get our latest news updates.
Rachel Moyers, Program Director, Named 2019 Elizabeth Dole Fellow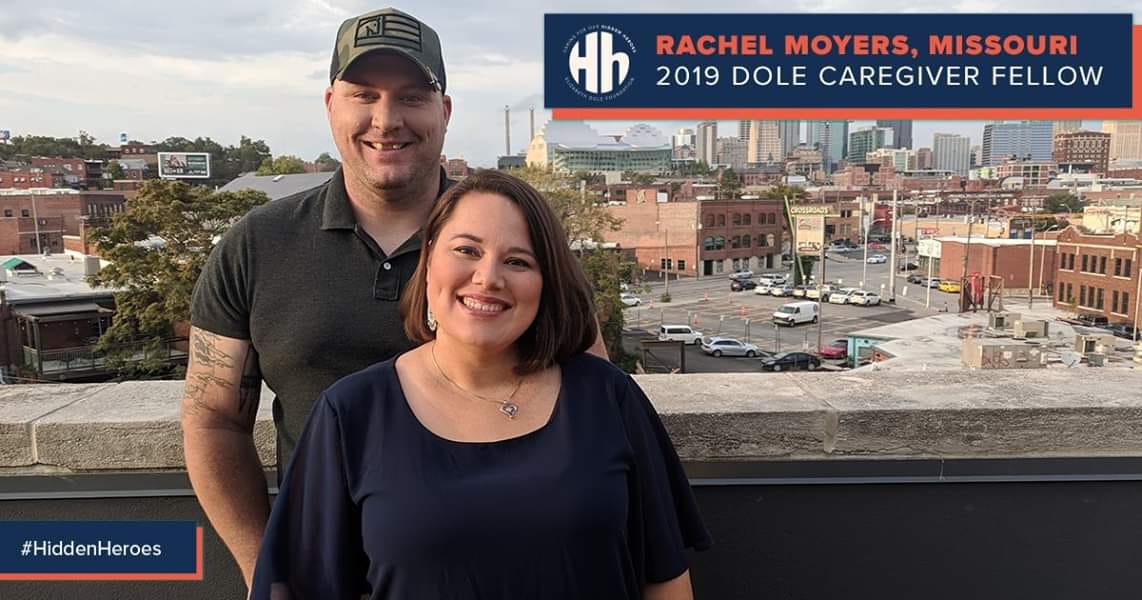 March 2019 
Rachel Moyers of Smithville, Missouri is a military caregiver for her husband Matthew, a retired Air Force Technical Sergeant. One of her biggest challenges has been coping with the loneliness and isolation that often accompany the caregiving lifestyle.
Working as a Munitions System Craftsman took a staggering toll on Matthew's body over the years. He suffers from several mobility-limiting physical issues including herniated discs, stenosis, and radiculopathy as well as severe arthritis in his back, shoulder and legs. He also struggles with hearing as a result of tinnitus and Post Traumatic Stress Disorder.
Rachel looks back fondly on the early days of being a military spouse, a part of the military culture and community, and supporting her fellow military families. After Matthew's retirement, Rachel found herself in a new role as a caregiver for her husband, supporting him as they navigated the post-military health care system to seek the help they needed for his deteriorating body. For the past five years, Rachel has supported Matthew in daily activities such as administering medications, managing appointments and taking care of their home. She has learned to identify the symptoms of Matthew's invisible wounds, which include anxiety, depression and suicidal thoughts. Rachel and Matthew have two young children who are often eager to offer a helping hand.
In the fall of 2018, Rachel began working with the Red Cross Military and Veteran Caregiver Network and is grateful for the support and understanding she receives in her new position. As a caregiver, Rachel is proud to help empower others as they navigate this challenging journey.
Rachel obtained her doctorate degree while caring for her husband and encourages other caregivers to shoot for the stars and set goals for themselves. A passionate educator, she looks forwarding to utilizing her platform as a Dole Fellow to inform society of the struggles involved in transitioning from the world of active-duty military to that of a civilian.
---
---
VA Eastern Kansas Suicide Prevention Summit April 13, 2018
April 13, 2018
The VA Eastern Kansas Suicide Prevention Summit was held this weekend at the Courtyard by Marriott in Junction City, KS. Beyond Thank You "A community conversation about military transitions, suicide prevention, healing, and hope."
Shawn Moore and Dr. Rachel Moyers PHD attended the summit and were able to share their experiences with suicide in the family. They were also able to shine a large spotlight on the mission of Caregivers on the Homefront.