Military and Veteran Caregivers - We See You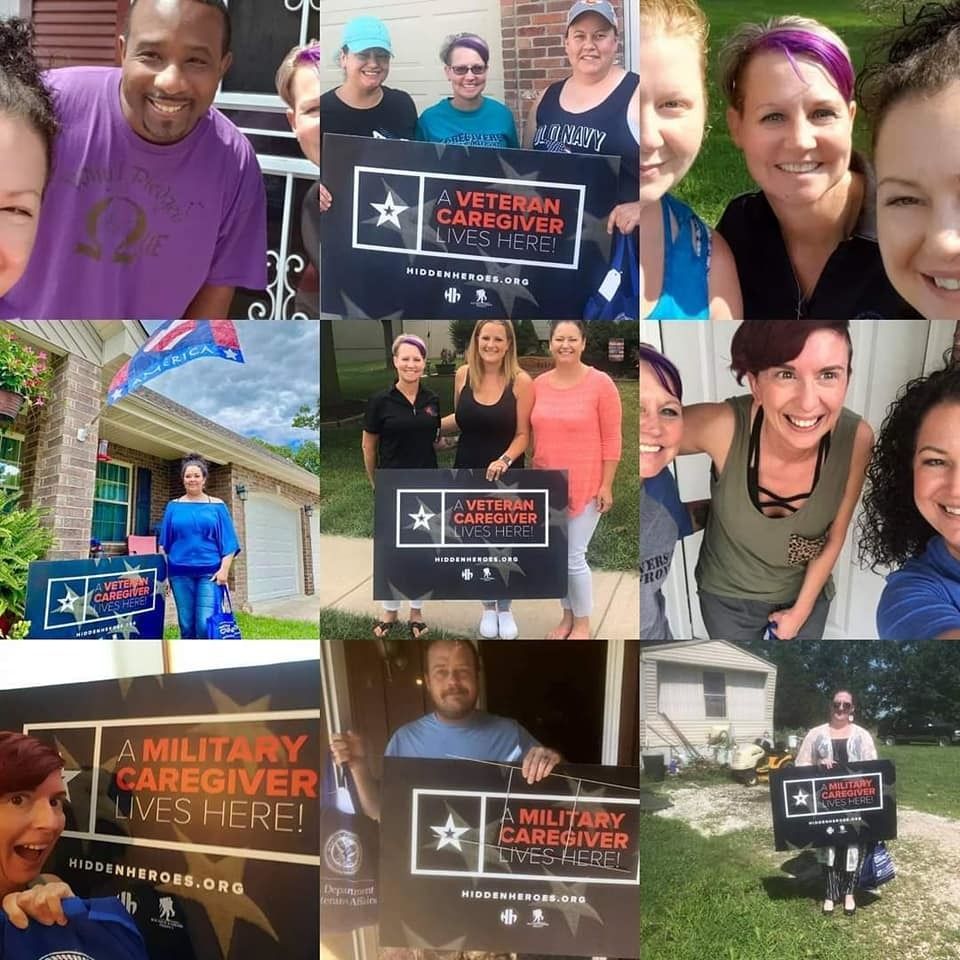 Our Executive Director, Shawn Moore, is also an Elizabeth Dole Foundation (EDF) Caregiver Fellow Alum for the State of Missouri. Through her continued work with EDF, Caregivers on the Homefront was able to partner with them utilizing funds through their Navigator Project. Since the pandemic put a damper on in-person events we wanted to come up with a way to ensure our caregivers knew that we were thinking about them. Now more than ever, caregivers need to know that they are seen and they need resources to endure. That is when Shawn and Natasha Swayze, COH Program Director, clicked into high gear. With yard signs and resource/care packages in tow, they set out to surprise 100 caregivers. To date, they have reached over 100 caregivers in over 50 cities/towns throughout Missouri, Kansas and El Paso, Texas.
Caregivers to our wounded warriors are selfless, have courage, and are compassionate to those they care for. But they NEED our help.

Read about what a care package meant to these caregivers:
"I wanted to say thank you so much for taking time out of your life to make other people smile. I was a recipient of a care package. This group has given me so much hope for my WW. It  has showed me that I am not alone and neither is my spouse. The stories I read daily are both heartbreaking and inspiring. I truly wish I would have found you guys years ago. Shawn and Natasha, thank you so much for you generosity and time. This couldn't have come at a better time, despite how I looked the night you arrived LOL! That was a very tough day, my work was insane, my WW was out of control, it was just one of those days!! You guys showing up made my evening better. This had been an extremely tough year for us and knowing I am not alone is amazing! Thank you for all your hard work. I hope you all know that the work you do is priceless to myself and all the other caregivers. 
Thank you with all my heart!" - Missouri Caregiver
"Random little surprises really mean a lot. Some days we are at the end of our rope, then to go to the mailbox and get something that says "thinking of you" really helps and means a lot. Thank you and all of our supporters for what you do." - Texas Caregiver
"Care packages always seem to show up for me when I least expect them but when I really need them the most. The remind me that I am not alone and that someone out there loves and cares about me! I also like to send little things to other caregivers to let them know Im thinking about them!" - Illinois Caregiver
"As a caregiver getting that random surprise means the world. It always seems to come when you need it the most and you are feeling like you don't know how you are going to keep going. To be acknowledged and appreciated means the world. Thank you for all you guys do!" - Michigan Caregiver
"Getting a care package to me as a caregiver would be awesome. Is caregiver work hard to care for the Wounded. Thank you for all you do for us." - North Carolina Caregiver
"As a caregiver, it means the world to us when we are not forgotten.... sometimes we lose ourselves while caring for our WW.... a care package reminds us that we are not alone and not forgotten!!!! Thank youuuuu" - Oklahoma Caregiver
"Random surprises always brighten my day. It makes me know that someone actually does care about all I am doing and loves you. It brings a genuine smile to my face. I lose myself so often and these little things bring me back to who I am as a person...." - Ohio Caregiver
"Getting little care packages let you know your not forgotten about. Sometimes in this roll we lose ourselves and feel like the outside world doesn't see us. Little reminders to let you know your thought of, loved and cared about go a lot farther that some would think." - Minnesota Caregiver 
---
WHY YOUR DONATION WILL MAKE A DIFFERENCE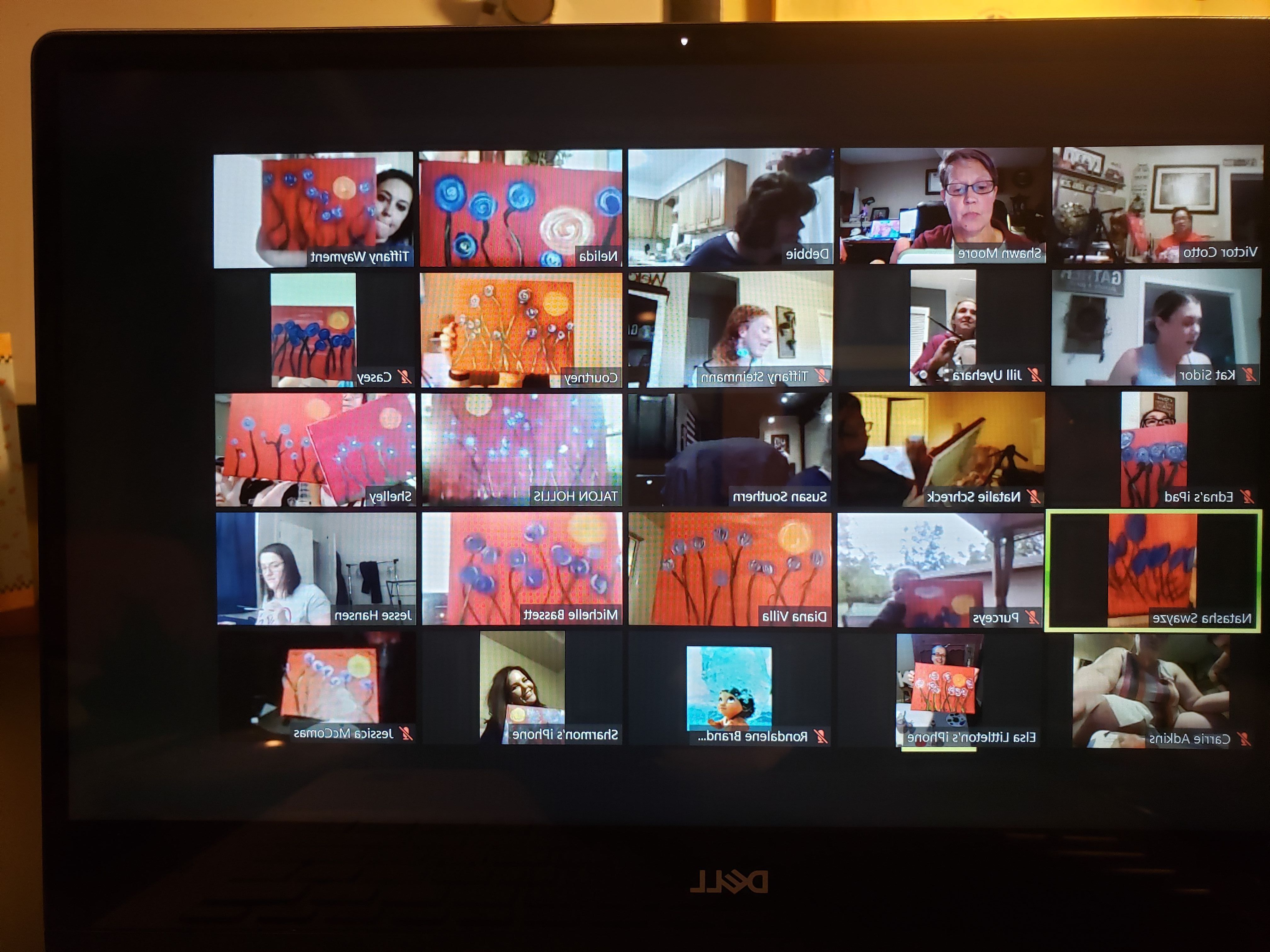 ---
Learning how to shift in this ever changing climate is paramount to continuing to serve our caregivers. In the picture above, thirty caregivers from all of the United States participated in a virtual paint night! We sent each one of them a paint kit with the materials needed for the night. This also means coming to where the caregiver is. This year we started taking our Mental Health and Wellness Restorative Weekend on the road! We have found that caregivers have a hard time traveling out of state and being a flight instead of a drive away from their wounded warrior. You can help us come to different locations throughout the United States to bring healing to these Hidden Heroes! 
Counseling on the Homefront
A new program to benefit family caregivers, their children, and veteran couples!
According to the Rand study, "Military caregivers consistently experience worse health outcomes, greater strains in family relationships, and more workplace problems than non-caregivers, and post 9/11 military caregivers fare worst in these areas." The study goes on to say "We found that key aspects of caregiving contribute to depression, including time spent giving care and helping the care recipient cope with behavioral problems. Perhaps even greater concern, between 12% (of pre-9/11 military caregivers) and 33% (of post-9/11 military caregivers) lack health care coverage, suggesting that they face added barriers to getting help in mitigating the potentially negative effects of caregiving." Access the Rand Study Here
Now more than ever our veteran caregivers and their families need YOU. A pandemic can be traumatic to anyone but those that already have mental health challenges, such as our veteran families, it can be even more devastating. YOU CAN MAKE A DIFFERENCE by donating to our Counseling on the Homefront program. 
Remember your donation counts no matter how big or small. Every dollar goes to supporting our nations hidden heroes, the caregivers of wounded veterans and first responders. 
To make donating easier we have sponsorship packages at the bottom of the page.
---
DONATE ON LINE