HISTORY OF CAREGIVERS ON THE HOMEFRONT
It is no secret that the men and women who are veterans or currently serving in the nation's military, along with their brothers and sisters who serve as first responders in our communities, are heroes. Medals, ribbons, and national support are indicative of the many sacrifices these heroes make every day. Unfortunately, there is little to no equivalent support structure for the hidden heroes of our nation. These are the veteran, military, and first responder family caregivers who make incredible sacrifices to care for our nation's injured and ill service members, veteran's and first responders. 
Caregivers on the Homefront was created by Shawn Moore in 2017. Shawn serves as a caregiver for her husband, Bryan, a 23-year Army veteran, who suffers from numerous mental and physical disabilities. Shawn felt isolated and without resources when trying to help her husband and after speaking with a variety of individuals she realized her story was not unique, that there was a gap in the resources and support structure for our nation's caregivers. Caregivers on the Homefront fills that gap by providing in-person and online support groups, educational workshops, and mental health and wellness restorative weekends. We also advocate for the caregiver at the local, state, and national level.
THE PROBLEM
The Elizabeth Dole Foundation commissioned the Rand Corporation to conduct the first comprehensive, evidence-based national study of military caregivers and their needs in 2015. The study revealed a societal crisis:  an estimated 5.5 million Americans care for injured or ill service members and veterans. Military caregivers provide $14 billion of uncompensated care each year. Although first responders are engaged in different duties, they also suffer from many of the same post-traumatic stress and physical maladies that service members and veterans do. As such, their caregivers suffer from many of the same issues that those who care for the military do. 
According to the Rand study, "Military caregivers consistently experience worse health outcomes, greater strains in family relationships, and more workplace problems than non-caregivers, and post 9/11 military caregivers fare worst in these areas." The study goes on to say "We found that key aspects of caregiving contribute to depression, including time spent giving care and helping the care recipient cope with behavioral problems. Perhaps even greater concern, between 12% (of pre-9/11 military caregivers) and 33% (of post-9/11 military caregivers) lack health care coverage, suggesting that they face added barriers to getting help in mitigating the potentially negative effects of caregiving." Access the Rand Study Here
This is exactly why Caregivers on the Homefront provides our mental health and wellness restorative weekend. Without a healthy caregiver, the veteran is going to continue to suffer. As a nation, we must make caring for the caregiver a priority. We took the gaps that were found in the Rand study and developed our programs accordingly. 
OUR MISSION
The mission of Caregivers on the Homefront Inc. is to provide caregivers of our nation's veterans and first responders with hopefulness, a sense of togetherness, and a firm foundation of resiliency. With your help we can make a difference. Learn more and get involved.
---
Caregivers on the Homefront's 1st Annual
Will You Walk With Me? 5K Fun Walk/Run
June 29, 2019 at the National WWI Memorial
Let's Start a Conversation
A walk for awareness of Veteran and First Responder suicide and those that love them.
Click here for more information and opportunities to sponsor the race
---
Visit the Resource Library for local and national connections.
Read more.

Inside the Military and Veteran Caregiver Network you will find our online peer support group for those that can't get away to join us face to face.
Take a look.

Caregivers on the Homefront Inc. founder, Shawn Moore, advocates in the community by speaking about the difficult topic's caregivers face every day.

Am I a Caregiver?
The United States is home to more than 5.5 million military caregivers. This course provides five questions that can help anyone identify if they are a caregiver to a service member or Veteran. In addition to providing information about how to manage the different demands and stressors of caregiving. Caregivers on the Homefront's Shawn Moore discusses her role as a caregiver.
---
Caregivers on the Homefront Mental Health and Wellness Restorative Weekend
---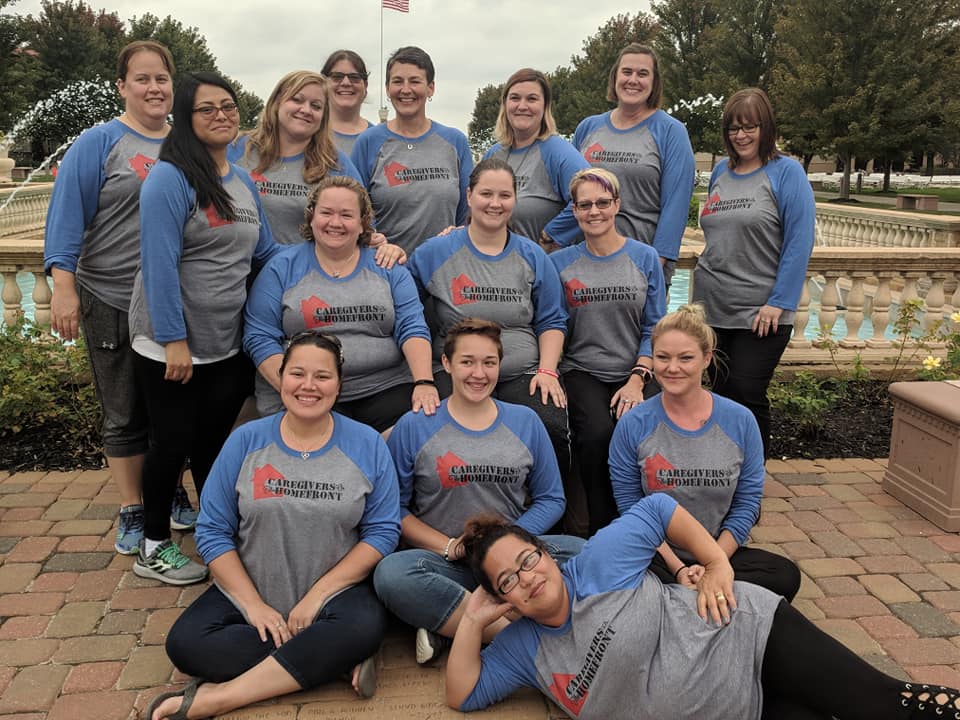 ---
PARTICIPANT INPUT ON SOCIAL MEDIA ABOUT RESTORATIVE WEEKEND
I was blessed to have been able to spend last weekend with a group of truly INCREDIBLE women. We participated in yoga nidra, made vision boards, had a writing workshop, we told our stories, we learned lessons from horses, we vented, we screamed, we busted watermelon, we laughed, we cried, we hugged, we supported and encouraged each other. The best part of all was that we formed a tribe. Thank you Bryan N Shawn Moore and Rachel Moyers for all of your hard work in making this happen. Thank you for inviting me to be a part of Caregivers On The Homefront's inaugural Mental Health and Wellness Restorative Weekend. I'm so blessed that each one of these women have become part of my journey!

I truly do not have the words to describe how wonderful this weekend was. Yes, it was mentally and emotionally challenging, but the tools I received and the renewed strength I have, were totally worth it. Some highlights of the weekend- I finally felt heard, finally felt like I truly am not alone, and it's okay to be me and have the feelings and things I have/do. The absolute best part, I now have a TRIBE! I finally have a lovely, wonderful group of friends who understand, they get it, and though I may have only been with them a couple of days, I know I can get a hold of them to vent, talk, and/or ask for help. What an enormous blessing I was given. My thanks to Caregivers on the Homefront for existing and for blessing me this weekend. My thanks to God for putting them in my path. We can only go up from here.

Like many military caregivers, I struggle - logistically and emotionally - with finding the time and support for self-care. Last weekend, I had an opportunity to attend my first caregiver retreat. I almost didn't go, but I headed to Kansas City and these women changed me. The mental work was exhausting but necessary. I'm incredibly grateful to Caregivers On The Homefront for the chance to learn more about myself and meet some strong women, all of whom I admire. Thank you to all of you. I'm here when you need me.

Attended a Mental Health and Wellness Restorative Weekend with Caregivers On The Homefront the past few days . Knew the organizers pretty well , was pretty excited to be able to get away for a few days. Little did I know what I actually got myself into. I am beyond impressed and so super proud of what Shawn, Rachel and Danielle successfully organized and accomplished with this event. I have discovered things about myself that have been long lost in the roller coaster of living with a Combat PTSD/TBI injured husband. I have laughed, cried, talked , listened, laughed some more, created, made a watermelon explode, tried to write/journal , saw a horse rolling in the dirt, had a horse nibble on my pony tail holder like my dog used to, learned some simple yoga techniques and bonded with 11 fellow members of this new tribe. A tribe of some extraordinary women who walk the very same path I do in this crazy post military/war life. Some I knew before the event , some I have never met before yet within a few hours, felt like I have known them all my life . Women that I don't even have to say much about anything and they understand in ways many others cannot. This life has taken so many "left turns", probably a few U turns . And hit some pretty huge potholes. But yet I know I'm exactly where I'm supposed to be. Learned some skills that will alleviate some stressors and help propel me forward! A huge thank you to Caregivers on the Homefront and its sponsors for a powerful life changing weekend.

I've arrived back home in southern Illinois safely. This weekend was my first caregiver retreat! I was incredibly nervous and anxious because I did not know what to expect. I'd met Bryan N Shawn (Shawn) back in March along with Peggy at a workshop we did in KC, and I knew Corrine from writing conferences.
---
News & Notes
---
Click Here to listen to Shawn Moore's interview with KC Cares Radio. 
---
---
Kansas City, Missouri declares the month of September 2018 to be National Suicide Prevention Month. In order to bring light to this tragic issue.
---
Caregivers on the Homefront Inc. founder Shawn Moore speaks to the Kansas City, Missouri City Council about suicide prevention. "Are you suicidal, should be as easy to say as, how are you doing, in a conversation." -Shawn Moore