---
HISTORY OF CAREGIVERS ON THE HOMEFRONT
It is no secret that the men and women who are veterans or currently serving in the nation's military, along with their brothers and sisters who serve as first responders in our communities, are heroes. Medals, ribbons, and national support are indicative of the many sacrifices these heroes make every day. Unfortunately, there is little to no equivalent support structure for the hidden heroes of our nation. These are the veteran, military, and first responder family caregivers who make incredible sacrifices to care for our nation's injured and ill service members, veteran's and first responders. 
Caregivers on the Homefront was created by Shawn Moore in 2017. Shawn serves as a caregiver for her husband, Bryan, a 23-year Army veteran, who suffers from numerous mental and physical disabilities. Shawn felt isolated and without resources when trying to help her husband and after speaking with a variety of individuals she realized her story was not unique, that there was a gap in the resources and support structure for our nation's caregivers. Caregivers on the Homefront fills that gap by providing in-person and online support groups, educational workshops, and mental health and wellness restorative weekends. We also advocate for the caregiver at the local, state, and national level.
THE PROBLEM
The Elizabeth Dole Foundation commissioned the Rand Corporation to conduct the first comprehensive, evidence-based national study of military caregivers and their needs in 2015. The study revealed a societal crisis:  an estimated 5.5 million Americans care for injured or ill service members and veterans. Military caregivers provide $14 billion of uncompensated care each year. Although first responders are engaged in different duties, they also suffer from many of the same post-traumatic stress and physical maladies that service members and veterans do. As such, their caregivers suffer from many of the same issues that those who care for the military do. 
According to the Rand study, "Military caregivers consistently experience worse health outcomes, greater strains in family relationships, and more workplace problems than non-caregivers, and post 9/11 military caregivers fare worst in these areas." The study goes on to say "We found that key aspects of caregiving contribute to depression, including time spent giving care and helping the care recipient cope with behavioral problems. Perhaps even greater concern, between 12% (of pre-9/11 military caregivers) and 33% (of post-9/11 military caregivers) lack health care coverage, suggesting that they face added barriers to getting help in mitigating the potentially negative effects of caregiving." Access the Rand Study Here
This is exactly why Caregivers on the Homefront provides our mental health and wellness restorative weekend. Without a healthy caregiver, the veteran is going to continue to suffer. As a nation, we must make caring for the caregiver a priority. We took the gaps that were found in the Rand study and developed our programs accordingly. 
OUR MISSION
The mission of Caregivers on the Homefront Inc. is to provide caregivers of our nation's veterans and first responders with hopefulness, a sense of togetherness, and a firm foundation of resiliency. With your help we can make a difference. Learn more and get involved.
---
---
PARTNERSHIP ANNOUNCEMENT with Grantham University!
---
Visit the Resource Library for local and national connections.
Read more.

Inside the Military and Veteran Caregiver Network you will find our online peer support group for those that can't get away to join us face to face.
Take a look.

Caregivers on the Homefront Inc. founder, Shawn Moore, advocates in the community by speaking about the difficult topic's caregivers face every day.
---
Caregivers on the Homefront Mental Health and Wellness Restorative Weekend - January 2020
---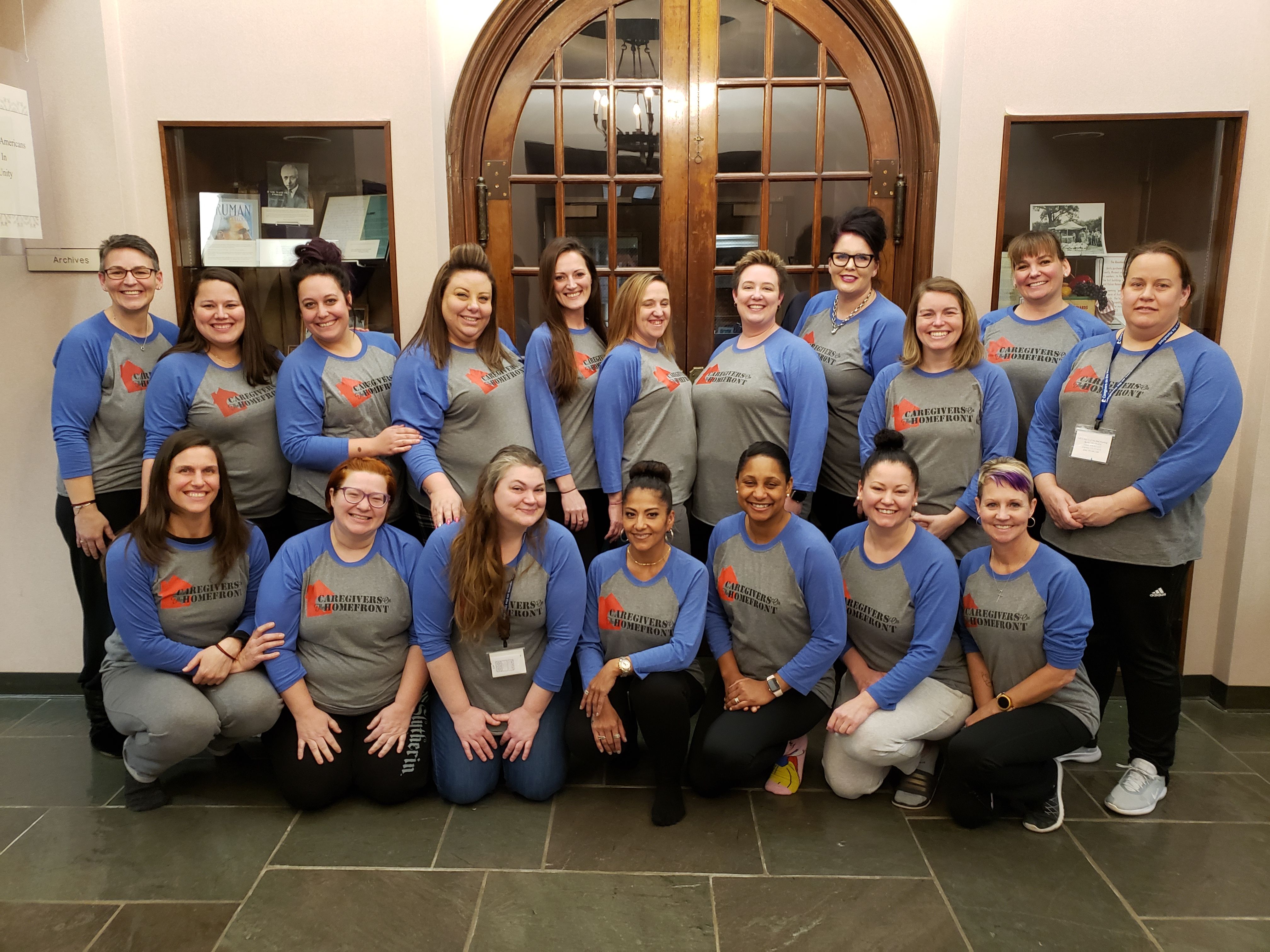 ---
PARTICIPANT INPUT ON SOCIAL MEDIA ABOUT RESTORATIVE WEEKEND
When I first got to the restorative weekend I found out I had to tell my story. Despite the fact that I have wrote millions of words over the years and I have shared some painful truths of circumstances we have lived through on my blog, from alcohol and porn addiction to PTSD and physical wounds, my story has always been OUR story.
So I panicked a bit. What was MY story? What was my story without references to my husband's story? It was hard. But I did it. This weekend was full of laughter, tears and a whole lot of "me too" moments. Being in a room with 20 people who truly get the crazy, the messed up and through all the "stuff" get the deep love- is just amazing.
I am forever grateful to Caregivers on the Homefront for reminding me that I still have an identity. For providing me with techniques and a tribe to sustain. I love you all. - Laura P.

I had an awesome weekend. I stayed at Unity Village for a Caregiver Mental Health/Wellness Restorative Weekend. I met the most amazing fellow caregivers. Words can't express how thankful I am to have come across Caregivers On The Homefront, Bryan N Shawn Moore and Rachel Moyers. It was so great to take home the knowledge and connections! Oh and the binder... amazing!

Thank you Caregivers On The Homefront for including me in your Restorative Weekend for Military Caregivers. The work you do to enrich the lives of those caring for our nation's warriors is amazing! #makeadifference #bettertogether #wwpempowers - Jennifer M.
---
News & Notes
---
Click Here to listen to how the Covid pandemic has affected caregivers. 
---
---
Our Caregiver Tribe
---